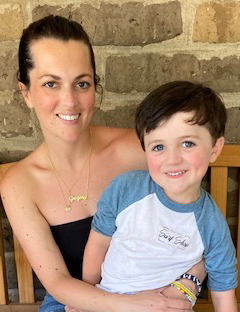 Kerri DeNies is the mother of Gregory, a sweet, funny, 4-year old boy who loves trains and "girl-cheese" sandwiches. He was diagnosed with adrenoleukodystrophy (ALD), a disease caused by mutations in the ABCD1 gene that can lead to accumulation of very-long chain fatty acids in adrenal tissues and white matter of the spinal cord, and in its most severe form, accumulation in the white matter of the brain leading to a progressive and debilitating cerebral disease. Fortunately, Gregory was born in California, one of 17 states that screen newborns for ALD, and his condition was diagnosed early enough to hopefully recode his story. Kerri recently shared what life is like for them:
Hi Kerri, thanks for sharing your story with us. Let's start off by sort of virtually meeting you and Gregory… You're a ballet teacher. How were you drawn to that?
Ballet has always been the center of my life. When I was five, I had Legg Calve Perthes –a hip disease – and had to wear a full body brace, so I had to stop taking ballet for a while. But I haven't stopped dancing since and became a ballet instructor at 16. It's all I know. I love teaching children and adults the art of ballet and using it as a tool for expression and to build confidence. My true passion is teaching children with unique physical needs, and I developed a ballet program several years ago that is still running! Having Gregory inspired me to open my own online/zoom ballet school, Ballet La Jolla. It's perfect because I can help students while also being there for my son.
And Gregory… What's he like?
He doesn't stop moving for a minute. Gregory is obsessed with trains. He knows every single one. We have a train encyclopedia and if you point to the trains, he'll tell you all of them by heart. He loves it. I don't know… he memorizes books? He's a hoot. We have two dogs, Pippa and Winter… Gregory wants to be responsible and help walk them. We live in a big apartment complex and he likes to go on secret walks – and he likes to put on my headbands, like a lot of headbands for teaching ballet. He always puts them on; this has been going on for two years. So, he's really cute. He requests I play him his favorite song every night at bedtime.
If you could spend the day however you like, what would you do?
My favorite kind of day is going to a small, quiet, secret beach we know of with Gregory and just playing with his toy sea creatures in the water. Anytime I can just be with Gregory is a great day!
He sounds like a sweet boy. So, when did you learn he has ALD?
I received a call from my son's pediatrician's office, one Monday morning when Gregory was about nine months old. They said, "You need to come in today and talk to us. We can't talk about it on the phone. You need to come in, and we'll tell you then." And so, of course, I was freaking out. I asked two labor and delivery nurse moms I know, "Do you know anything?" And they didn't seem to be able to figure out what it possibly could be at nine months old.
What was the conversation like when you went in?
My son's pediatrician sat in front of her laptop, like she did a search online, and told us Gregory was diagnosed with adrenoleukodystrophy. She just gave us the worst-case scenarios of how the brain and adrenal glands can take over and put a child in a vegetative state by the age of five... So, pretty much only the negative, which at that time, was probably all I would have focused on anyway. But it was not really the best way of explaining it to us. She didn't even give us any paperwork. We had to ask for a piece of paper to write down the name of the disease.
Wow. What happened next?
We were referred to our local children's hospital. But we had to wait months to even get an appointment. And when we tried to set up who my son's neurologist and endocrinologist would be, they were like, "Oh, whoever you can get appointments with." They didn't seem to understand how important it is to get the endocrinologist right away. You have to start monitoring their adrenals as soon as possible because they've been born with adrenal insufficiency.
Is Gregory exhibiting symptoms?
Gregory is asymptomatic for cerebral ALD currently. What happens with the ALD mutation is that boys can start to exhibit signs typically around the ages of four to 10. The cerebral forms, the brain forms, where the myelin essentially starts to break down. And so, that's why Gregory has brain MRIs every six months. He started getting brain MRIs at the age of two. So at two, he got one. And then we waited a year, per our doctor's recommendation. And then once he turned three, it's every six months until at least age 12, if not a bit older than that. And then once they hit a good mark past 12, then it's every year for life. With the hope that if they do find a lesion, we will successfully treat it.
They say it takes a village to raise a child. Who's in yours?
My family is amazing. I have four sisters, two older and two younger. I'm the middle. And I was the first to have a child. When Gregory was born, he was like a prince. Literally, they acted like he was the Prince of Sheba. And they still act like that with him, it's very funny and sweet. But anyway, not just because he has ALD, they've always been like that with him. So, they're very, very supportive, even to the point where when I was not in the best situation, they helped me find my own apartment. They helped finance it. They furnished it so Gregory and I could start our new life. And then, my parents moved across the country. They sold their house in Connecticut and moved here – to the same apartment complex, actually. And I have a really supportive boyfriend. That's really been amazing because it's different to bring in someone new, especially with a child that has the disease that seems like it's non-existent sometimes. But it's definitely a big part of our lives, and him understanding it all, and being a part of it. And I have a big ballet family because I teach ballet. I have a lot of ballet families that are very supportive. Also fundraising. I've done a few fundraisers for ALD, so I've gotten a lot of support there also.