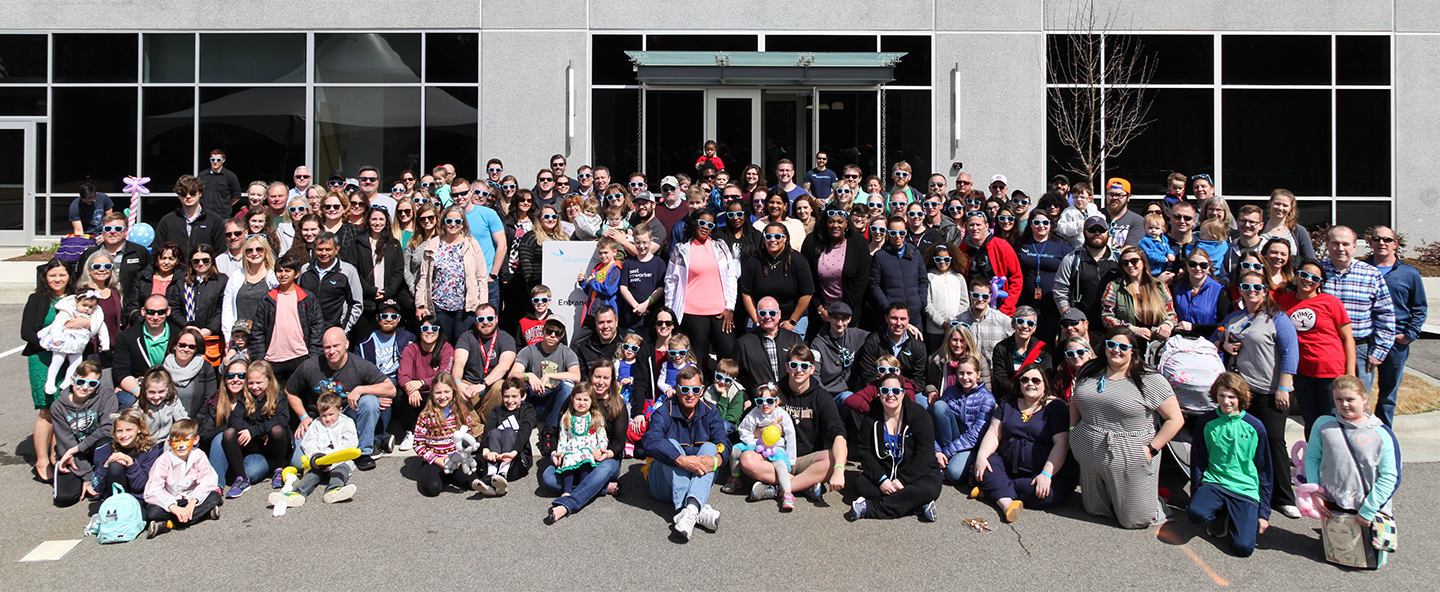 let's recode what's possible
2019
our first approval!

June 03, 2019

The flock receives EU Conditional Marketing Authorization for our first product, ZYNTEGLO™ (autologous CD34+ cells encoding βA-T87Q-globin gene)

We Receive Positive CHMP Opinion

March 29, 2019

bRT Ribbon Cutting

March 21, 2019

Our nest in North Carolina is open for business!

We Announce A Partnership With Inhibrix

January 07, 2019

bluebird bio announces exclusive license agreement to research, develop and commercialize chimeric antigen receptor (CAR) T cell therapies using Inhibrx's proprietary single domain antibody (sdAb) platform to multiple cancer targets.
2018
Our Regulatory Application Is Accepted By The EMA

October 05, 2018

bluebird bio announces European Medicines Agency's Acceptance of Marketing Authorization Application of our investigational treatment for patients with transfusion-dependent β-thalassemia.

We Announce Partnership With Gritstone Oncology, Inc.

August 23, 2018

bluebird bio announces a collaboration to research, develop and commercialize products for the treatment of cancer using cell therapy.

Strategic Collaboration With Regeneron Announced

August 06, 2018

bluebird bio announces collaboration with Regeneron to discover, develop and commercialize new cell therapies for cancer

FDA Grants Us Breakthrough Therapy Designation In ALD

May 23, 2018

bluebird's investigational gene therapy for cerebral ALD was granted Breakthrough Therapy designation by the U.S. FDA.

Our First Superstar Day

May 20, 2018

Each bird is allowed to invite 1-2 people that inspire them to visit the office and to see what we do here on behalf of patients. Our speaker and performer for year one was America's Got Talent contestant, Mandy Harvey.
2017
Strategic Collaboration With TC Biopharma Announced

December 07, 2017

Collaboration with TC Biopharma announced to research and develop Gamma Delta CAR T cell product candidates for cancer immunotherapy

We Move To The Newest Nest!

March 21, 2017

Our Facilities team celebrates after receiving the Certificate of Occupancy for our new nest at 60 Binney, Cambridge MA.
2016
We Enter Into A Partnership With Apceth Biopharma

December 15, 2016

Our manufacturing relationship with Apceth provides us with European commercial manufacturing capabilities

R&D Collaboration With Medigene Announced

September 29, 2016

bluebird bio announces strategic research and development collaboration and licensing agreement with Medigene AG for T cell receptor (TCR) immunotherapies against four targets.

We Receive PRIME Designation By The EMA

September 21, 2016

Our investigational treatment for patient with transfusion-dependent β-thalassemia was given PRIME designation by European Medicines Agency (EMA)

We Enter Into A Strategic Agreement With Lonza

June 09, 2016

bluebird bio announces strategic manufacturing agreement with Lonza Houston, Inc., providing for future commercial production of our drug products

Our First EU Bird Joins The Nest

June 06, 2016

Gabriella joined the nest as our first hire in Italy. We now have EU birds in Switzerland, Italy, France, the Netherlands, and the UK too!

Daron's bluebird Day

April 29, 2016

bluebird invites Daron, a 12 year old boy fighting cancer, to be our Chief Scientific Officer for the day! All birds fly with Daron!

First Multiple Myeloma Patient Treated

February 17, 2016

First patient treated with bb2121 anti-BCMA CAR T cell therapy in Phase 1 study in patients with relapsed/refractory multiple myeloma.
2014
First Sickle Cell Disease Patient Treated

October 14, 2014

The first patient treated in a clinical study of our investigational treatment for sickle cell disease was a milestone for bbb and patients.

First Transfusion-Dependent β-thalassemia Patient Treated

May 03, 2014

The first patient treated in a clinical study of our investigational treatment for β-thalassemia was a milestone for bbb and patients.
2013
We Move to 150 Second Street in Cambridge

December 29, 2013

As bluebird continues to grow, the team moves to their new nest at 150 Second Street in Cambridge.

First Ever bbb Auction!

September 18, 2013

The all-employee auction has become an annual bluebird tradition. Each year, employees donate and bid on items to raise money for the charity of our choosing including the Ethan Zakes Foundation, Brian's Hope, Sickle Cell Community Consortium, Thalassemia Support Foundation and most recently in 2018 for Stupid Cancer.

We Acquire Pregenen

June 30, 2013

bluebird expands to the West Coast by acquiring some kick-ass birds with a unique gene editing platform. We now have a nest in Seattle, WA.

$BLUE Goes Public

June 19, 2013

bluebird's initial public offering (IPO)

Collaboration with Celgene Announced

March 15, 2013

bluebird collaborates with Celgene to discover, develop and commercialize novel, disease-altering gene therapies in oncology.
2012
First Participation in BioBall

April 28, 2012

BioBall is a one day basketball tournament that partners with the Mass Bio-Tech community to raise money for Special Olympics Massachusetts. - BioBall is now an annual tradition for bluebird.
2010
Founding Day of bluebird bio

September 09, 2010
1992
Genetix Founded

April 16, 1992